News
WERS 88.9 FM Presents Wicked Good Festival. 
Saturday, August 18, 2018
Boston Common - Boston, MA
FREE - RSVP HERE
Read more...
Our fourth LP originally released in 1993. First-ever US pressing on RED vinyl. Hurry as limited quantities remain.
Read more...
The Japanese 7" single of "Roman Cars" b/w "Saturday" is now available now for order. There are only 350 copies.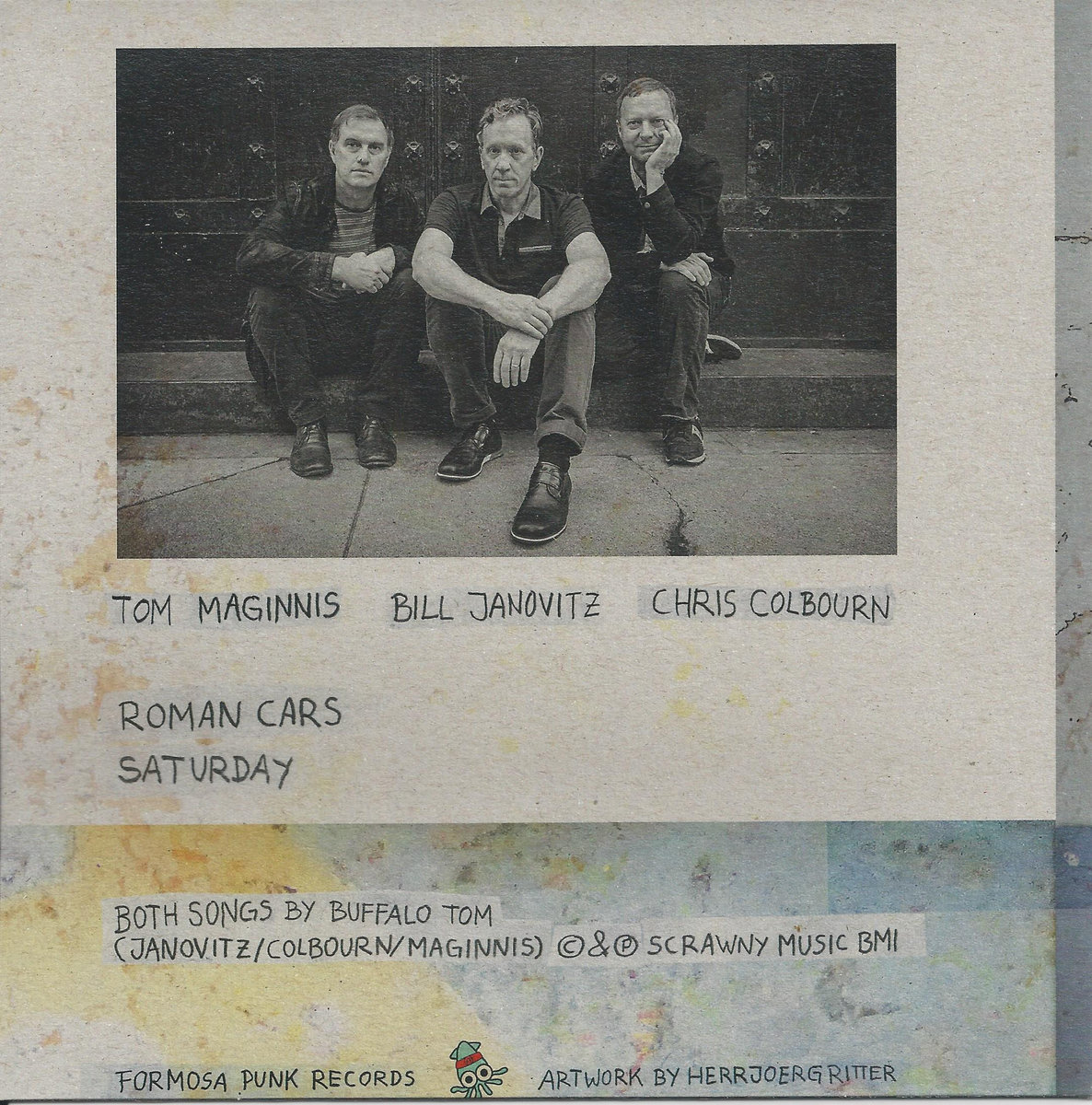 Read more...
Tickets go on sale Thursday for these newly added shows in Europe and England. We look forward to seeing you in the late autumn!
On sale THU MAR 15 @ 9 AM GMT
Nov. 27 - Copenhagen, Denmark - Pumpehuset -

TICKETS
Nov. 29 - Berlin, Germany - Bi Nuu -

TICKETS
Dec. 02 - Amsterdam, Netherlands - Paradiso -

TICKETS
Dec. 04 - Bristol, UK - The Fleece -

TICKETS
Dec. 05 - London, UK - Electric Ballroom -

TICKETS
Dec. 06 - Birmingham, UK - Birmingham O2 Institute 2 -

TICKETS
Dec. 08 - Eindhoven, Netherlands - Effenaar - Come As You Are 2018 -

TICKETS
Read more...
Most songwriters peak. Few fans think Bob Dylan improved after "Blood on the Tracks." Nobody champions Bruce Springsteen's "Wrecking Ball" over "Born to Run." But subtract the nostalgia you feel for Buffalo Tom's "Let Me Come Over" and you'll likely find the new album "Quiet and Peace" as great as anything the band has done — don't doubt my claim until you have listened to the quintessential Buffalo Tom track "Lonely Fast and Deep."
The Boston trio of singer-guitarist Bill Janovitz, singer-bassist Chris Colbourn and drummer Tom Maginnis have nothing to prove. The guys will never make the band a full-time gig again — their ninth album comes after a seven-year break. Maybe it's this freedom that allows them to write clear-eyed, adult rock 'n' roll. (Note: This is not meant as a pejorative.)
They fill "Quiet and Peace" with tight rock about complex relationships. "Roman Cars" captures something between mature and playful, an aesthetic between the Kinks and R.E.M. "In the Ice" features a melody and melancholy that echoes Janovitz's deeply underrated solo album "Walt Whitman Mall." Flirting with folk, punk and rock drones, the band sounds endlessly comfortable with its art.
Buffalo Tom returns to the Paradise on April 20.
Read more...
This is the big week.
Read more...
Read more...
Read more...
Big Day! Premier Guitar Magazine Premier of Lonely, Fast and Deep!Q103 Out of the Box Article and Video! Signing CDs and Stuff!
Read more...
Buffalo Tom Release New Song and Video For "Roman Cars" From The Forthcoming Album Quiet And Peace, Out March 2
See the video premiere via KEXP here
Against a beautifully-animated clip, painted in muted colors, the band delivers that exuberant, Big-Star-esque sound that we fell in love with 25 years ago. – KEXP
Boston-based indie faves Buffalo Tom have released "Roman Cars" the first video from their forthcoming album, Quiet and Peace, due March 2, 2018 via Scrawny/Schoolkids Records. Head to KEXP to see the exclusive premiere. The trio will kick off a U.S. tour March 1st in Seattle with a live performance on KEXP and at Neumo's later that night before heading to Los Angeles, San Francisco, Brooklyn and their hometown of Boston. More dates to be added soon.
Quiet and Peace is a compelling 11-song set that finds the trio—singer-guitarist Bill Janovitz, bassist-vocalist Chris Colbourn and drummer Tom Maginnis—simultaneously mining their best-known sonic elements while breaking new ground on emotionally resonant new tunes such as "All Be Gone," "Overtime," "Freckles" and "CatVMouse." Full of nostalgic and dusky imagery, much of Quiet And Peace emerges from New England's less visited darker corners, offering a sort-of poetic travelogue of faded colors and woods illuminated in the light of the seaside.
Buffalo Tom's first collection since 2011's Skins, Quiet and Peace was mixed by John Agnello (Kurt Vile, Sonic Youth, The Hold Steady) and marks the band's first collaboration with producer and fellow Boston alt-rock legend David Minehan, renowned ex-leader of the Neighborhoods.
Read more...
Hear the first track "All Be Gone" via Stereogum
2018 U.S. Tour Dates Announced
My top three artists are Bruce Springsteen, Buffalo Tom, and Tom Waits.
– Jon Stewart
Boston-based indie faves Buffalo Tom, having recently wrapped an acclaimed run of sold out U.S. and U.K. shows marking the 25th anniversary of their alt-rock masterpiece Let Me Come Over, have confirmed their first new album in six years, Quiet and Peace, due March 2, 2018 via Scrawny/Schoolkids Records. ...read more
Read more...